This is how it all started.
It seemed like I had spent a lifetime searching for properties in the district of columbia.
It was well into year two when I came across a listing for a small 1200 sf home with "minimal fire damage" for sale in southeast washington.
As soon as I saw it, I wanted it.
Their intent was to find a new owner to put in this house.
My intent was to open up my life to let in an orphaned home.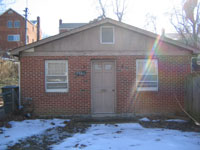 The house was humble, forgotten, and uninhabitable.
…but it spoke to me.
I purchased the property in December of 2004. Over the next few months of winter, I began to peel back the layers of intrigue and understanding that began to inspire my role as home owner first…architect, second.